There are four main types of surfacing we recommend to use on playgrounds: engineered wood fiber mulch (wood playground mulch), bonded rubber, pour-in-place (PIP which can either be 50/50 color/black or 100% color) rubber, and artificial turf.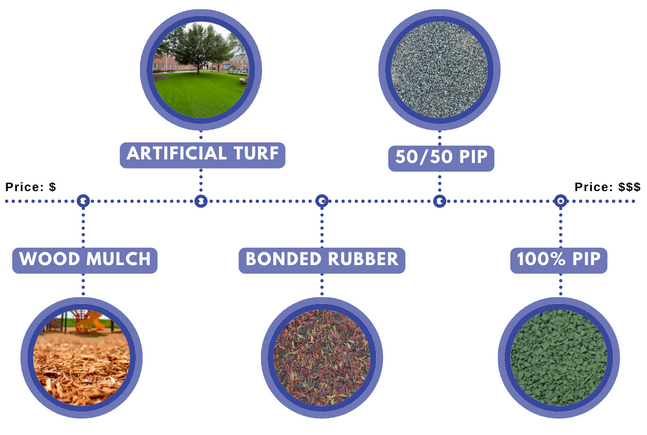 Each of these surfacing types is manufactured and installed to ASTM safety standards, and these standards are designed to help prevent severe injuries on playgrounds. The surfacing you choose for your playground depends on various factors, including how much surface area you have, age group, budget, equipment type, and future playground goals.
Weighing all these factors can be a lot, so we have put together a comprehensive surfacing guide to help you through some of the pros and cons of each surfacing type. We recommend reading through these details to better understand which type of surfacing will best fit your needs and your long-term playground goals.
Wood Mulch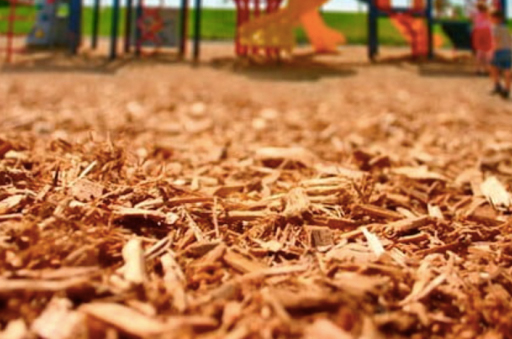 Bonded Rubber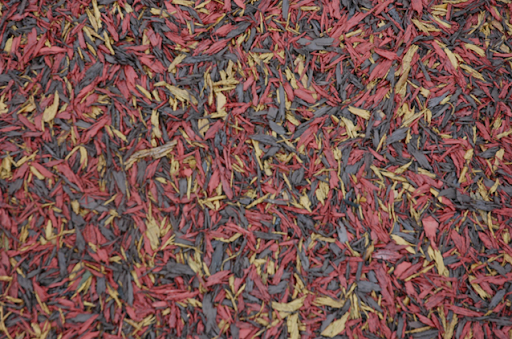 PIP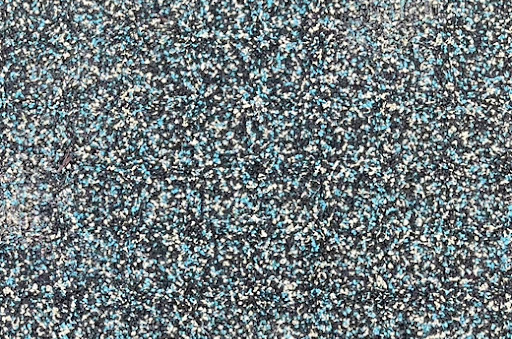 Artificial Turf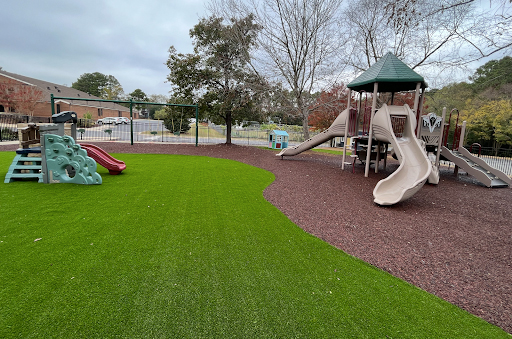 Playground Surfacing Guide
1. Engineered Wood Fiber Mulch:
Playground mulch is different from landscape mulch in that it is specifically ground to meet playground specifications for fall compliance standards.
Often installed with 4' long plastic containment borders to contain the mulch.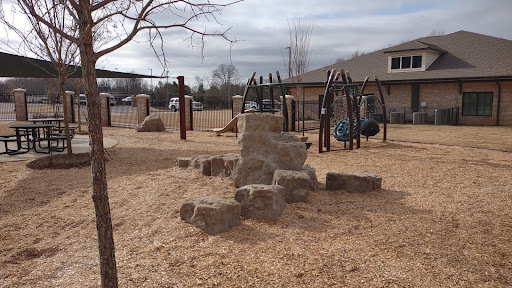 Benefits:
Cost-effective up front
–Allows you to maximize spending on play equipment and costs other than surfacing.
Makes installation of future play equipment or other playground modifications easier and more cost effective.
Many like it for its more natural look.
Things to consider:
Higher maintenance: mulch levels must be monitored consistently to meet fall height standards. Mulch will need to be added to the site regularly to meet these safety standards and to maintain compliance (how often depends on various factors including how heavily the playground is used and the site's drainage efficiency).
Once installed, wood mulch becomes an annual maintenance cost to ensure safety compliance.
Not the best option for younger kids who tend to crawl on their hands and knees and often like to put anything and everything in their mouths.
Holds moisture and other organic material.
Other factors that impact mulch on playgrounds:
Wear mats are often used in high use areas (ex. under swings) to keep mulch from eroding.
Mulch may migrate in areas of the playground depending on site drainage and grading (proper site prep & grading should mitigate this)
2. Bonded Rubber
This is a unitary rubber surfacing product (not to be confused with loose rubber mulch*). It is recycled shredded rubber (ranging in size up to 3" long) that is mixed with a binder to make a unitary surface that is evenly spread across fallzones.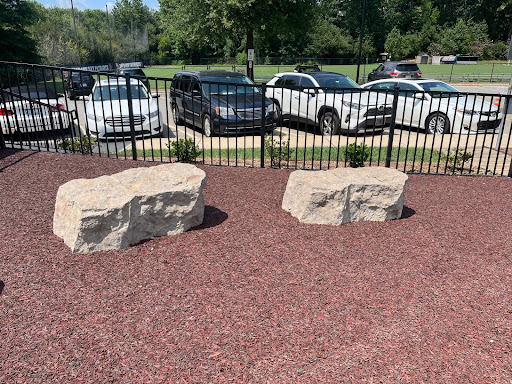 Benefits:
Less maintenance than wood mulch.
More cost effective than PIP
Unitary surface, so it will not migrate, kids won't be putting it in their mouths.
Water permeable (suitable to surface around deep rooted trees)
Less mess, after a rain only slides need to be wiped down before kids can play.
Things to consider:
Comes in darker colors so it tends to get hot in the summer months when in direct sunlight.
Some maintenance is required: depending on usage patterns and weather conditions a top coating of binder is recommended to extend the life of the product.
This product is colored with a surface stain in reds, browns, and greens.
It has a great natural look, but overtime due to the nature of the surface stain, the color fades to a homogenous brown shade (this is a gradual change overtime and is often unrecognizable).
3. Pour-In-Place (PIP) Rubber
This is the top tier rubber surfacing product. It is fine rubber granules that are mixed with a binder to form a 0.5" thick top course that coats the base cushion course of rubber buffings (this cushioned base provides the majority of the fall protection).
The PIP rubber top course can be poured as a 50/50 mix of color/black granules or as 100% color
— 50/50 color/black PIP is often chosen to minimize cost upfront.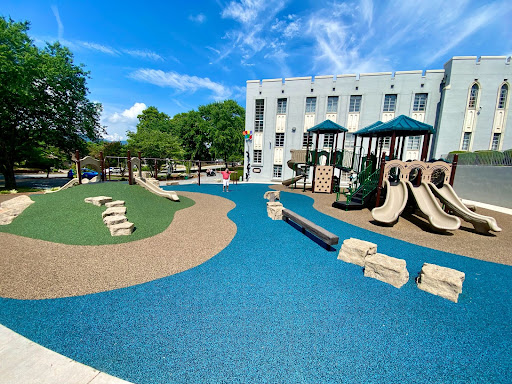 We highly suggest considering an upgrade to 100% colored PIP, if budgets allow, due to a host of benefits including:
Increased reflectivity which decreases surface temperatures. This is ideal for younger age groups with kids on their hands and knees.
Increased top-course durability resulting from consistent tensile strength in colored granules.
Brighter and more aesthetically pleasing.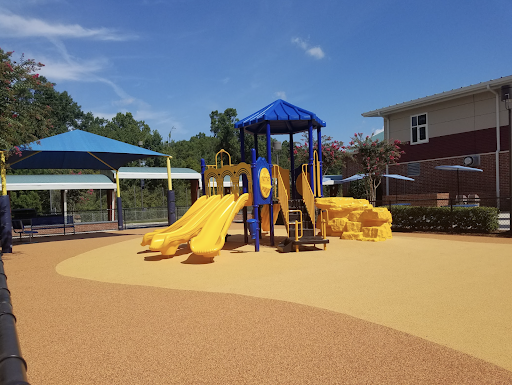 Benefits:
Higher quality product with a more refined look and consistent finish. The small granules (the size of a grain of rice) offer a more uniform rubber to binder ratio, increasing the integrity of the surface.
Less mess, no need to wait for mulch/ mud to dry, just wipe down equipment and kids can play.
Available in a variety of colors (pictured below).
Things to consider:
High initial expense, maintenance and small repairs are less expensive.
Low maintenance, but requires some upkeep. The wear surface should be re-coated with a binding solution every few years to minimize wear and combat desiccation from the sun and other elements.
Like all products, rubber surfaces will shrink and swell with the heating and cooling of the atmosphere. It is best to limit rubber abutting hard edges (ie. concrete walks or buildings) to avoid seeing contracted edges.
This is a hand installed product by skilled technicians, and slight imperfections are normal after installation. These minor imperfections dissipate with time and initial wear.
4. Artificial Turf
This is a carpet-like synthetic product made to look like natural grass. This product is installed on a stone base course with the option of adding cushioned pads as fall protection. Price can vary depending on the presence of fall surfacing.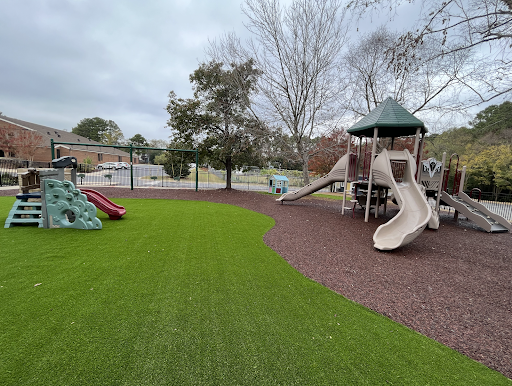 Benefits:
Great for large areas of open play
Maintains a natural look and feel to your play space.
Lower maintenance than real grass by landscaping costs such as mowing, watering, and pesticides/ fertilizers.
Keeps kids out of dirt and mud and helps avoid grass related allergies..
Free draining when installed with a layer of stone beneath the surface of the turf.
Things to consider:
This product is best used in large open areas due to the nature of its installation. The larger the area, the more cost effective it is for crew installation.
— It should be avoided in areas with many obstacles or posts. These increases seams which are costly and weaken the integrity of the system.
We recommend cleaning and brushing the turf with a power broom turf brush) to reduce wear patterns and conceal seams.
Similarly to the poured rubber surfacing options, turf tends to get hot in the summer months when exposed directly to the sun.
Loose Rubber Mulch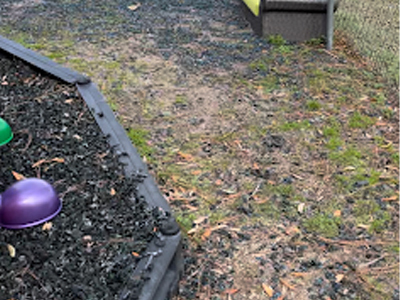 People often inquire about loose rubber mulch products which can be provided if requested; however, we find it important to note that there are several drawbacks of using this on your playground. Loose rubber mulch is exactly what it sounds like, loose rubber chunks that sit like wood mulch within a border system. This product tends to be more expensive than wooden mulch, but less expensive than unitary rubber systems.
People gravitate towards this product to meet the price of wood mulch with the maintenance of a rubber system, however in reality, loose rubber mulch harbors moisture and insects similar to wood mulch, and is more maintenance than bonded or PIP rubber. Due to the nature of the un-bound chunks of rubber, customers have found difficulty keeping it contained to the playground space. We find loose rubber mulch tends to end up in adjacent landscape areas which can be unsightly and a hassle to clean since it does not decay.
Bonded Rubber Color Options: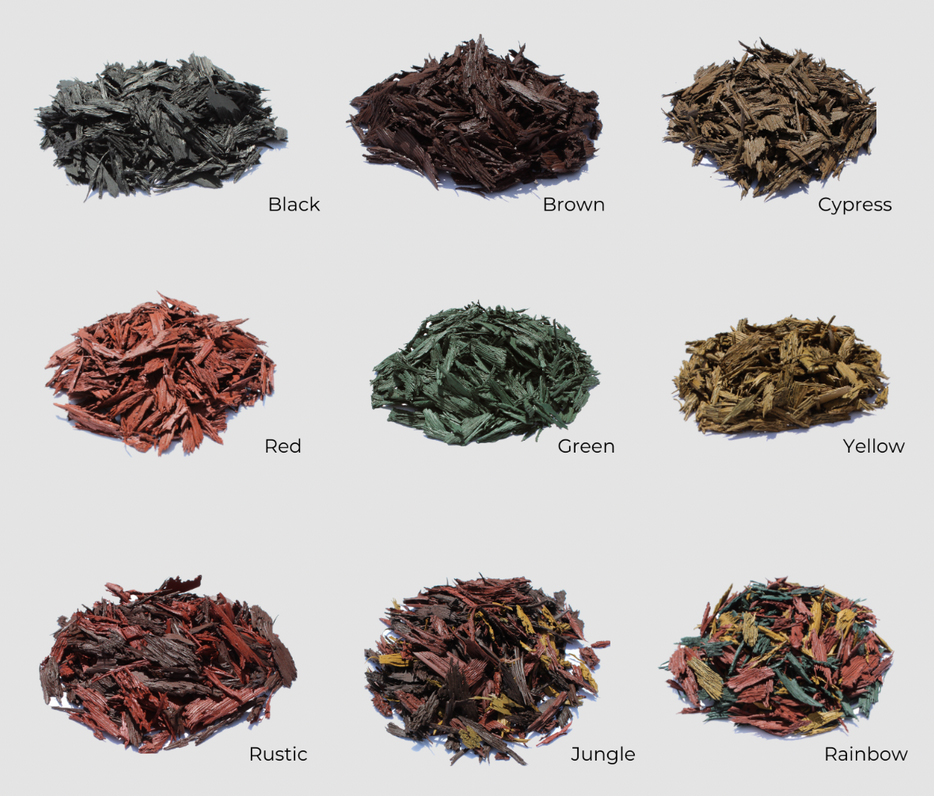 PIP Rubber Colors