The Most Fun Part of the Process!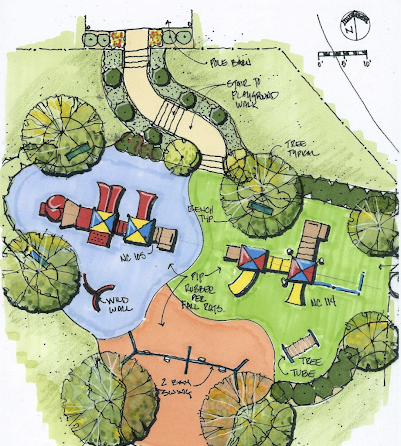 Upon founding our company in 2013, we made it a goal to go beyond simply providing a playground, similar to many of our competitors. We have intentionally prioritized playground design and construction services to offer a more holistic and streamlined operation.
Our licensure as Landscape Architects and General Contractors alone sets us apart from our competitors. This allows our ownership staff to offer a unique skill set that they have fine-tuned over 20 years of experience in design and construction. We can show you your full potential and help you achieve your facilities' goals by understanding your unique needs, site conditions, and budgets.
We find it important for you to take on whatever level of involvement best suits you and your team throughout the design process. Our design methodology takes place by assessing your needs, visiting your site, proposing ideas, and developing budgets. Once this is done, we can provide the necessary documentation that you can use to promote and fundraise for the project within your community. We like to remind our customers that some of the best playgrounds start with a dream and at least one person who truly believes in it. With that, we will work hard to provide all the resources and information you need to make your dream a reality. This process takes patience, a strong vision, creativity, and a documented plan to accomplish a project's full potential. We at Creative Playscapes are committed to building your job in your vision, on time, and on budget for each project, no matter how big or small.
Our design services look at the site as more than just a playground. We want to make improvements that foster enjoyment for every visitor. Anyone can put a play unit inside a chain link fence and call it a playground, but it is much more than that to us. We want to create a design unique to you to generate a well-utilized space where memories will be made for generations to come.
To us, it's more than just a playground!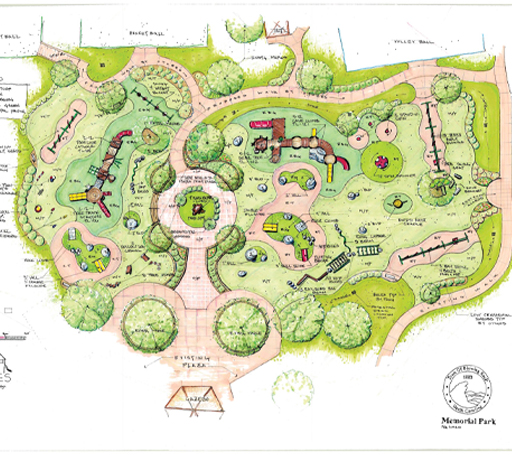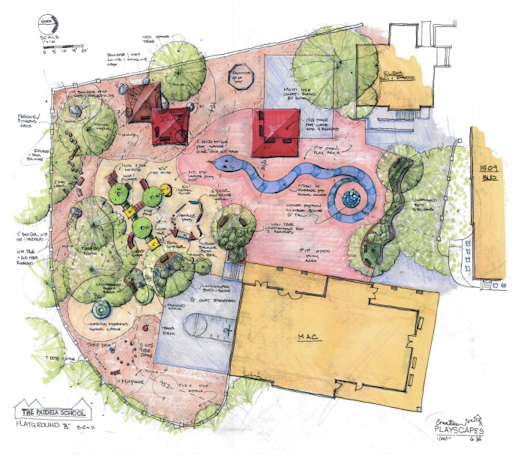 The Design Process:
The design process looks different for every project, but our best jobs follow a general pattern that includes identifying your needs/ priorities, aesthetics, and site demands of your space. Sometimes this process is short and direct, other times the process takes a few days or weeks to complete. The main stepping stones of this process are as follows:
Needs Program Analysis:
We begin discussions by identifying your needs and program requirements. It's important to assess your facility type, site use patterns, age groups, physical abilities, preliminary budgets and funding flexibility, equipment preferences, and site location options.
Site Analysis:
It is important to us that we meet with you on-site to understand the realities of your space's geometry, grading, and drainage issues, solar exposure/ microclimate, and tree cover/ shade assessment. This helps us identify and minimize site constraints while capitalizing on your site's unique opportunities. With all of this, we can begin the site's first phase of design visualization together.
Design Development:
With the above information, we will hit the drawing board to develop first-blush sketches of the geometry and flow of the site. These rough sketches are intended to identify general layouts and direction. With your feedback, we can adjust the drawing to ensure the final design meets your needs and long-term goals. Once the fine details are tweaked, we can put together final plans and budgets.
Construction Plan & Quote:
As the design reaches its final stages, each element is identified and drawn to scale on a detailed site drawing. This is used to calculate the cost of demolition, site preparation, equipment installation, and surfacing. These costs are detailed in a line item quote where you can see the breakdown of the project costs.
Construction Process & Project Completion:
With the design process coming to a close, we set up construction contracts and terms of agreement with you to meet your specific needs. We then order equipment and provide estimates of construction schedules. We offer a full line of on-site construction services in-house, allowing us to line up our team and arrange construction logistics once your equipment arrives. Additionally, we are committed to managing the installation and coordinating any minor field adjustments with your construction liaison throughout the entirety of construction. By remaining present through each step of this process, we keep things as streamlined and efficient as possible to ensure your dream becomes a reality.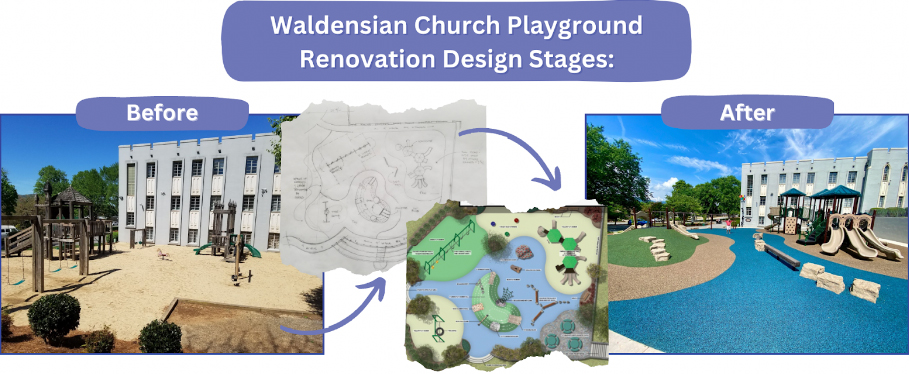 Testimonial:
"Not knowing anything about playground design, we found Creative Playscapes was sensitive to our needs, always listened to what we wanted, and designed our playground accordingly. At the same time, they never hesitated to suggest changes for the better and were very cost aware of staying within our budget, even saving us money by forewarning us of impending price increases. Creative Playscapes was (and is) super responsive and always returned our calls promptly. We had envisioned a small amphitheater and walkway attached to the playground. Creative Playscapes was instrumental in lending their expertise in designing both and they look great! During the actual construction they were on-site multiple times a week to ensure things were going well and ended up tweaking their design as a result of one of those visits to accommodate unforeseen problems that arose. Simply, Creative Playscapes made it easy!"

Waldensian Presbyterian Church, Valdese, NC