Since the COVID-19 pandemic, we have found outdoor learning spaces to become valuable additions to playgrounds at schools, religious centers, educational centers, and other community gathering spaces. A study by the University of Illinois at Urbana-Champaign found that students who received outdoor classes paid more attention during that instructional period and were significantly more engaged in their next indoor class session*. Many researchers have boasted about the benefits of outdoor classes for student engagement, mental health, and learning. With this in mind, we've begun incorporating outdoor learning spaces into our playground designs to provide a dual purpose to your space.
Our favorite way to achieve this is by combining natural play elements such as faux hop rocks, boulders, tree stumps, and railroad tie balance beams into semi-circles. These spaces can then serve as a location for instructional lessons with teachers and community leaders, reading circles, and gathering spaces for clubs and other organizations. Simply adding fall surfacing to these spaces allows them to be used later in the day as a climbing and balance course for kids during play time (see Natural Play).
Another great way to diversify children's experiences in these spaces is to create an "Art Park" with musical instruments, paint and chalk panels, and other spaces for creative expression. Not only does this provide an opportunity for kids to engage in the arts, but it gives enrichment teachers the opportunity to branch out of the classroom for more engaging and memorable class experiences.
When designing outdoor learning spaces, we love getting to know your school, organization, and community to better understand your unique needs, desires, and budgets to formulate a functional and beautiful outdoor learning environment. This can include suggesting thoughtful landscaping, shade structures, and whiteboards to foster the best experience for students and teachers.
If you're interested in an outdoor learning center or natural play space, call us so that we can help you create designs and budgets!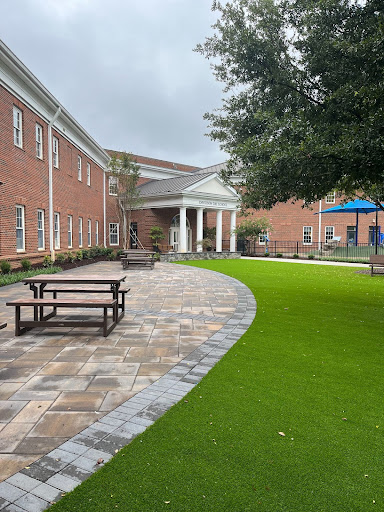 *https://greatergood.berkeley.edu/article/item/the_surprising_benefits_of_teaching_a_class_outside