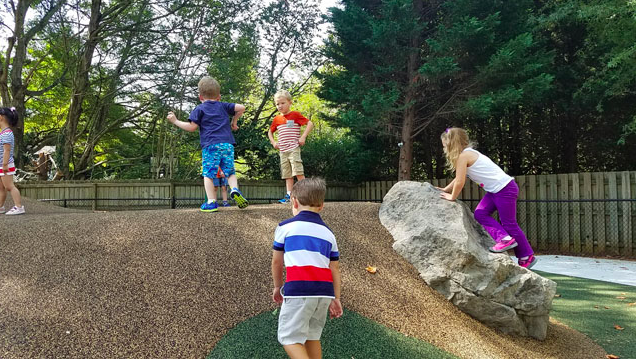 Every natural playground we design and build in Charlotte is unique, Jon has never replicated a design, (I think he would explode LOL). One of the aspects we customize for our playgrounds is the surface area; we study the area, kids and playground equipment and utilize several safety surfaces in most natural play areas.
EPDM Surfacing:
Rubber base made of recycled granules, providing rubber depth and forms the "cushiony" or impact portion of the surface. On top of that we install the EPDM, or wear course which makes up the wearing surface and adds the color to the surface. EPDM is an excellent surfacing for safety, low maintenance and aesthetics.
CRM Surfacing:
Loose fill materials made of recycled off-road tires which are shredded into rubber mulch and then colored to resemble natural wood. It's very user friendly and gives a natural look to the play area.
Tile Surfaces:
Pre-engineered tiles work great for natural playgrounds; they are premanufactured for color accuracy and very tight dimensional tolerances
Artificial Turf:
Manufactured turf, when combined with waterproof, recycled foam pads, provides a natural, low maintenance, and safe turf system that is economical, clean, and free draining.
Loose Fill Materials:
Loose fill materials may include shredded rubber, sand, pea gravel, and engineered wood fiber mulch (EWF). All must be installed to a depth of 9" minimum and all protect to different fall attenuation heights.
We welcome your calls and questions regarding playground surfacing, natural playgrounds and our commercial line of playground equipment, including shade structures.
#NaturalPlaygroundSurfacesCharlotte
Safety Starts w/ Stability!
Kurt Karriker
704-589-7455
Creative Playscapes