Church Playground Equipment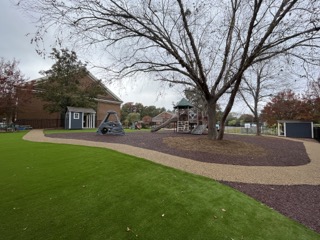 At Creative Playscapes we understand the importance places of worship hold in your community. We also recognize the desire to grow your church visibility and membership. One simple way to do this is to add a playground. Incorporating a church playground has many benefits, such as creating a family-friendly atmosphere and attracting new members. We believe adding a playground to your church can be a significant addition, which is why we are committed to providing high-quality and affordable church playground equipment.
Church Playground Equipment Benefits
The benefits of having a church playground are many.
1. A church playground is inviting.
If your playground can be seen from the street, even partially, it sends a positive message about your church community. It tells everyone who drives by that your church is family friendly, that you care about children, and that fun and recreation are an important part of church life for your congregation.
2. A church playground promotes health benefits.
Studies have shown that kids who participate in outdoor activities do better in school, have improved attention spans, and experience less stress. By offering children a bright, engaging, safe place to enjoy fresh air and sunshine while experiencing the joy of movement, you're promoting a healthier lifestyle for your littlest members.
3. A church playground gets kids away from screens.
Even small kids are suffering from the same "screen addiction" as their parents, spending hour after hour staring at TV, computer, or smartphone screens. When they come to your church playground, they have the chance to interact with other kids and their parents on a personal, face-to-face level.
4. A church playground promotes fellowship.
When kids interact at a playground, they learn teamwork, empathy, and appreciation for the things that make their playmates special. Even activities as simple as deciding who goes first on the slide can benefit the development of interactive skills that will serve them well later in life.
5. A church playground attracts young families.
If you're trying to attract younger families to your church, installing a bright, modern playground is a perfect first step. Not only will young moms and dads feel welcome in your congregation, but they'll also be more likely to stay after services and engage with others while their kids enjoy some outdoor fun.
If you're ready to build your church playground and view our product lines contact us via e-mail or phone. We'll be happy to help you out in building the best church playground for the kids of your congregation that suits your budget and play needs.